TEAM INTENSITY
These summer camps will be held at Greens Farms Academy, 35 Beachside Ave, Westport, CT 06880.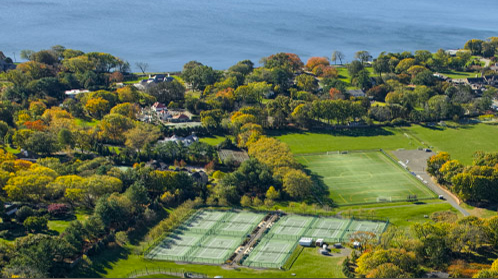 INTENSITY offers a world-class tennis academy led by Adam Altschuler and Kris Hrisovulos on the 8 magnificently maintained courts at Greens Farms Academy. Unlike traditional camps, INTENSITY offers the flexibility to pick the days you want to play, you no longer have to buy complete weeks so you don't lose out if you have to miss a day.  Choose from either of these camps:
Option 1
9am – 4:30pm
Up to 5 hours of tennis per day (you choose your hours)
Fitness not included
* see below
1 hour lunch break
10 pack – $1,360
20 Pack – $2,500
Unlimited – $4,300
Option 2
12pm – 4:30pm
3 hours of tennis per day (2 hours of drills, 1 hour of match play)
1 hour of fitness / team sport activity included
½ hour snack break
10 pack – $1,100
20 Pack – $2,000
* Option 1: Strength & Agility small group (3 max) training sessions can be added for $45 per session.
Qualification: This camp is designed for current and prospective yellow ball tournament players. We take into account age, experience, UTR and player evaluation.  If you are new to INTENSITY Please contact Kris Hrisovulos | 203.853.7727 x130 to schedule an evaluation.
Sign Up: Registration is by the day, select a date and you will be prompted to buy a package if you do not have one, subsequent registrations will automatically draw down on your pack. Players can not attend camp without registering first.
Cancellation: Players must cancel online no later than 48 hours before camp or they will be charged for the day. In the case of bad weather please call the club 203.853.7727 x116 between 8:15am and 8:45am for weather updates.
What to bring: Players are asked to bring a cooler, drinks, lunch / snack, sunscreen and a hat.
More Information: Please contact Kris Hrisovulos | 203.853.7727 x130
SIGN UP NOW
Register for your first day
You will be prompted to buy a pack of days