INTENSITY offers a world-class tennis academy that begins with our very youngest players. Unlike any traditional fall program, this is a shortened 9-week session from August 31st to November 1st, specifically to accommodate schedule changes that might impact all of us beyond October.
Discovery
Discovery is for the beginner tennis player to develop the important skills of hand-eye coordination and agility. The program introduces tennis vocabulary and the rules of the game. It is facilitated in a fun and encouraging setting that develops social skills and promotes team spirit.
| | | | |
| --- | --- | --- | --- |
| Day | Starts | Time |   Clinic |
| Mon | Aug-31 | 2:00pm – 2:45pm | 45min Clinic |
| Tue | Sep-01 | 2:45pm – 3:30pm | 45min Clinic |
| Thu | Sep-03 | 2:00pm – 2:45pm | 45min Clinic |
Number of Lessons per week
Price
1 lesson per week
$380
2 lessons per week
$685
Note that this program will run on Labor day, September 7th
The program uses 75% slower foam tennis balls that bounce at a level proportionate to a child's height to allow better and longer rallies, encouraging the development of all-court games, racquet skills, physical awareness and confidence.
Discovery follows the ITF's Progressive Tennis system of scaled training and competition for kids which is the development method of choice in the majority of the world's leading tennis nations. Roger Federer is the spokesperson for Progressive Tennis in his home country. It is an exciting play format designed to bring kids into the game by utilizing modified equipment, shorter court dimensions and modified scoring, all tailored to age and size.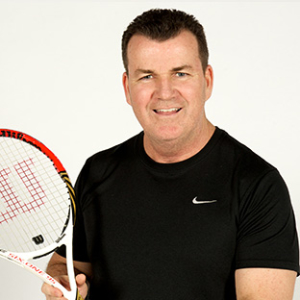 Joe Norton leads the Discovery program. Anyone who has met Joe will tell you that he's one-of-a-kind. His fun personality, sense of humor and limitless patience have been tested by generations of junior players to whom he is known simply as "Coach Joe".
Joe is a Connecticut native, having grown up in Fairfield. He is one of 14 children, all of whom played either varsity high school singles, college tennis or on the professional tennis tour.
Joe's sister, Beth was the number one ranked junior in the United States in the late 70's and made it to number 20 on the world professional tour in the mid 1980's. Joe traveled with Beth on the tour as her hitting partner, until her retirement in 1988. Joe's brother, Tim was ranked in the top 200 in the world before injury sidelined him.
The Norton Family was voted United States Tennis Association Family of the Year in 1977.
REGISTRATION: Spaces are limited and INTENSITY reserves the right to not accept a registration. INTENSITY makes every effort to ensure that the programs run to schedule but reserves the right to re-schedule in the event of insufficient sign-ups or events beyond the club's control.
LIABILITY WAIVER: Due to the nature of the sport injuries can occur, registrant acknowledges the risks and waives INTENSITY of any liability for such.
CANCELLATION POLICY: Cancellations for camps or clinics must be in writing and will be accepted up to one week prior to the start of the session for refunds.
ABSENCES: Due to the popularity of our programs, make-ups are not offered.
INJURIES: A doctor's note is required in any case where make-ups are deemed an appropriate remedy for missed classes or, in the case of a prolonged injury, where a house credit may be issued for future use in a similar future program. Refunds are NOT offered and registrant agrees to make payment in full for all registered programs. Registrant agrees to pay INTENSITY reasonable attorney's fees and costs in connection with collection of any amounts owed.
VIDEO / LIVE STREAMING: The club uses video/live streaming technology for informational use as a teaching tool during lessons, clinics and matches. Registrant confirms that they are aware of this and gives permission for it's use.
REGISTER NOW FOR THE
FALL 9-WEEK SESSION
Please email Elynne Marcus or call (203) 853-7727 x128 with any questions about this program.