PERFORMANCE CAMP
Green & Orange Ball
Mon-Fri 9:30am – 1pm
$350 per week
at Greens Farms Academy, 35 Beachside Ave, Westport, CT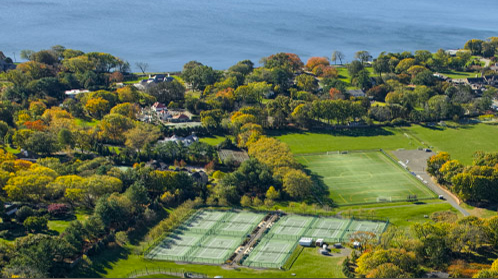 INTENSITY offers outdoor tennis camps for ages 7 to 10 led by Kris Hrisovolus and Adam Altschuler.
These camps follow CT state social distancing guidelines and the USTA's scaled training and skills development curriculum for kids. It is an exciting play format with court dimensions appropriate for the size, age and skill of the player. By scaling down the court size, playing with balls that bounce lower and travel slower and using appropriately sized racquets, players develop technique and tactics much faster than they otherwise would.
Focus
At this level, we focus on shot selection, tactics, and patterns of play while continuing to develop the child's individual game. Players experiment with their game while continuing to improve both technically and tactically.
Format
These camps are limited to 4 kids per court. The day starts with a dynamic warm up and 2 hours of on-court tennis skills building as well as cooperative and competitive activities.  There is 1 hour of athletic development activities to improve agility, balance and coordination and a 30 minute mid-morning snack break.
Qualifications
This camp is designed for developing players, it is not for those that are new to the game. An evaluation is required prior to registration.
What to bring
Please bring a snack (nut free), a water bottle, sunglasses, hat and sunscreen.
More Information
Please contact Kris Hrisovulos | 203.853.7727 x130
SIGN UP NOW
Weekly Camps
Ages 7 – 10