Fairfield High School Practice Clinics
This main season squash program is a competitive training program for Fairfield high school students that want to improve their squash skills. These practices are 1½ hours of structured, purposeful drills and match play.  The program is coached by INTENSITY's Director of Squash, Zac Alexander (HWR 36) and adheres to all CT state and US Squash COVID-19 guidelines.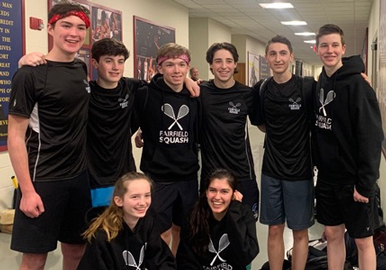 8-Week Clinics
Jan-26th – Mar-18th
Days
Times
 Description
Tue & Thu
3:30pm-5:00pm
2 practices per week
Please note clinics will run during the Fairfield schools winter break
 Desciption
Members
Non-
Members
2 practices per week
$485
$695
Student squash membership is $95 per month (month to month, no commitment, no initiation fees). Non-members wanting to join as members should select the members payment option and we will call you to set up your membership.
SAFETY MEASURES
Face Masks to be worn at all times both on and off court
iMask face shields available for purchase for on court play
Temperatures are taken at check-in and attendance is maintained in case contact tracing is required
Hand sanitizer available at the front desk, outside the courts and at the exit door
All furniture has been removed to reduce extra surfaces and to limit lingering of players
Intensity has installed two US Squash approved forms of air filtration: HEPA Filters and Merv13 Filters
ENTRY / EXIT
Entry into the club is through the front door only
Exit is through a different door located behind the courts
PLAY
Please be ready to play within 5 min of entering the building
Players finished playing or refereeing must leave the club immediately
Face Masks must be worn at all times during playing and refereeing
Goggles or an iMask must be worn while competing
All players must bring their own equipment- no loan rackets or eyewear available
PERSONS IN BUILDING
(Practice and Game Day)
Maximum 24
Players
Referee's
Coaches
Team Chaperone
Intensity Staff
ADDITIONAL GUIDELINES
Locker room is available for personal storage. Towels have been removed
Water fountain is available with personal water bottle only, no drinking directly
Water bottles are available for purchase at the front desk
Only one coach or chaperone permitted in the club per team competing
If you are not the current player or referee on court, please wait outside
Streaming via phone or camera is recommended for parents wanting to watch
US Squash resource:
https://ussquash.org/covid-19-response/
REGISTRATION: Spaces are limited and INTENSITY reserves the right to not accept a registration. INTENSITY makes every effort to ensure that the programs run to schedule but reserves the right to re-schedule in the event of insufficient sign-ups or events beyond the club's control.
LIABILITY WAIVER: due to the nature of the sport injuries can occur, registrant acknowledges the risks and waives INTENSITY of any liability for such.
CANCELLATION POLICY: cancellations for camps or clinics must be in writing and will be accepted up to one week prior to the start of the session for refunds.
ABSENCES: due to the popularity of our programs, make-ups are not offered.
INJURIES: a doctor's note is required in any case where make-ups are deemed an appropriate remedy for missed classes or, in the case of a prolonged injury, where a house credit may be issued for future use in a similar future program. Refunds are NOT offered and registrant agrees to make payment in full for all registered programs. Registrant agrees to pay INTENSITY reasonable attorney's fees and costs in connection with collection of any amounts owed.
VIDEO / LIVE STREAMING: the club uses video/live streaming technology for informational use as a teaching tool during lessons, clinics and matches. Registrant confirms that they are aware of this and gives permission for it's use.
REGISTER NOW!
Please email Zac Alexander or call (203) 853-7727 x3 with any questions about this program.