Yoga is an ancient practice of physical movements, meditation and breathing techniques designed to extend life. All yoga classes stretch and strengthen the body, challenge and build the mind and develop awareness of the power of the breath. The health benefits include; stress relief, healthy joints, better quality of sleep, improved focus and concentration. Yoga helps avoid injury and encourages healing.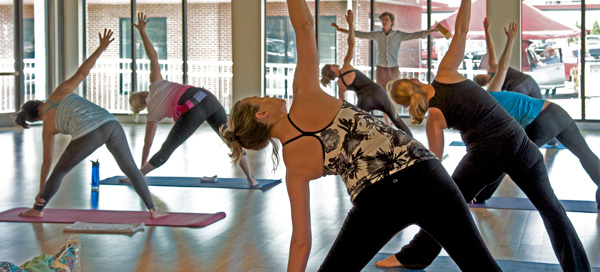 Yoga Stretch
A Vinyasa class focusing more on the poses that are easy to access and give a deep stretch. No experience necessary, great for a post workout wind down.
Vinyasa Yoga
A free-flowing class that gets you sweating, breathing, mediating and loving!
Sweet Release
A perfect way to unwind and stretch out! Our Sweet Release classes are a balanced offering of juicy, more dynamic flow and gentler, deeply refreshing, restorative postures. This is a great class for beginner and seasoned yogis alike. It's also a great way to conclude your workout.
All of our teachers are a minimum of 200 hour YA trained and certified.