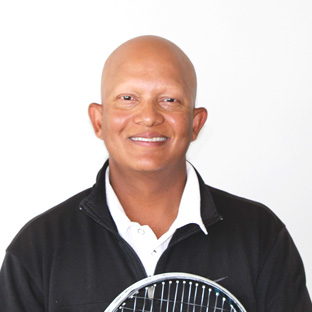 Tennis Instructor
Ritush is the Head Men's tennis coach at Western Connecticut State University, where he led the Men's Tennis team to the program's first-ever appearance in the NCAA DIII National Tournament. He has also been the Director of Tennis and Junior USTA Team tennis in the Fairfield County area for more than a decade.
Ritush has compiled an impressive history of directorships, coaching, and developing young people. Prior to his current position he was the Director of Elite Junior Tennis at the Four Season Racquet Club for 5 years.
A native of India, Ritush reached a ranking of #1 in the juniors and was ranked in the top 10 nationally in the Men's Open division. He attended Graceland University where he was an All-American, ranked in the top 5 and achieved an impressive 4-year winning record of 168 & 4. After graduating, his success continued on the court as he reached #1 in both singles and doubles in the New England and Eastern Divisions. He competed in the Hamlet Cup, and he won New Haven Open in 1997, earning him a wild card into the Pilot Pen. Ritush was a top player of the New York Men's Open Team that represented the Eastern Division at the National Championship Tournament in Las Vegas, where they were finalists in 2004 and became National Champions in 2005. In 2006, Ritush was a guest speaker at the USPTA Eastern Convention and spoke along with former world #37 Tim Mayotte and Mark Bay a coach of the world #1 doubles team, the Bryan brothers.
Ritush is a certified PPTA & USPTA Professional 1 instructor. He has his certification in Cardio Tennis, Quick Start Tennis and Etcheberry Fitness Training. He is the owner of RV Tennis Gear as well as an authorized Babolat and Wilson Dealer, Team Babolat member and a member of the United States Racquet Stringing Association. Ritush is regarded as one of the New England's leading instructors.
When not playing or teaching tennis, Ritush enjoys playing competitive paddle, soccer, and spending time with his wife, JoDee, and their 4-year-old son, Rohan.