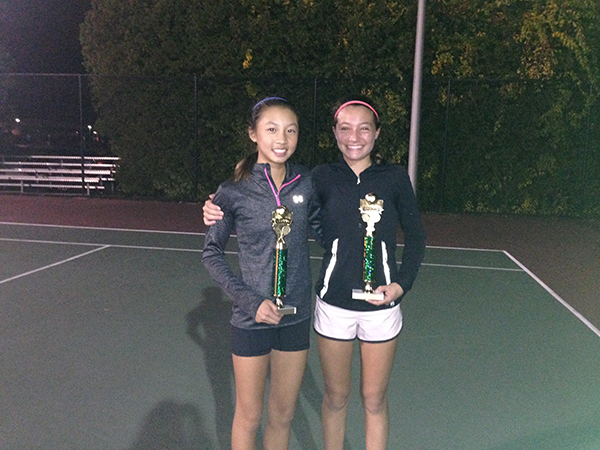 Alyssa Dimaio (right) holding her championship trophy!
At the Girls 18 and Under National Level 2 in Glen Cove, NY, Anna Rogers as unseeded player finished 2nd place in both singles and doubles. In singles she made an impressive run to the finals knocking off along the way the #2 and #6 seeds. And in doubles, her and her partner topped the #4 and #1 seeds on their way to the championship match. Kylie Wilcox battled in the consolation draw to win four matches, beating the #5 seed in the semifinals, before losing a close 3 set finals match.
Ellyse Hamlin reached the Round of 16 in singles and finished in 2nd Place with her partner in doubles at the International Grade B1 Junior Girls Pan-American Champions in Tulsa, OK.
At West Hartford, in the Girls 16 and Under National Level 4, Hailey Wilcox reached the Quarterfinals as unseeded player, beating the #5 seed in the opening round. In the Girls 14 and Under National Level 4, Alyssa Dimaio was a doubles Champion and reached the semifinals of the consolation draw.


Seiji Hosokawa was the Champion of the Boys 18 and Under Level 6 in Rocky Hill, CT. And Rebecca Link finished in 2nd Place of the Girls 18 and Under Level 6.
In Bloomfield, CT for the Boys and Girls 16 and Under Level 6, Nicholas Condos finished in 2nd Place, Max Zimmerman was a semifinalist, Taylor Dean was a semifinalist in the girls and Andrew Mercorella was a quarterfinalist.
Ry Cohen and James Adamini were both Champions of their separate flights, winning all three matches each at the Boys 14 and Under Level 7 in Madison, CT.
Griffin Forberg won two of three matches in his flight of the Boys 14 and Under, Level 7 in Torrington, CT.