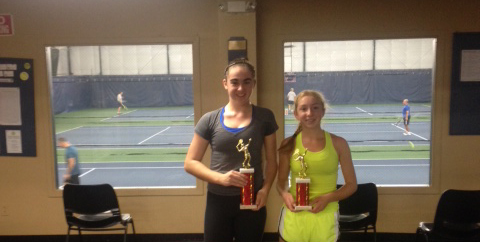 Natalie Ivanov (left) holding her championship trophy!
Samantha Svendsen was the Champion of the Girls 12 and Under, Level 6 in Middlebury, CT.
In Rocky Hill, CT at the Boys and Girls 18 and Under Level 6, Natalie Ivanov was the Champion of the girl's singles and Seiji Hosokawa was a Finalist of the boy's singles.
Andrew Mercorella made a strong run to the Finals, knocking off the #2 and #3 seeds and finished 2nd Place of the Boys 16 and Under, Level 6 in Longmeadow, MA.
Hailey Wilcox and her partner Aleksandra Bekirova finished in 3rd Place, after reaching the Semifinals of the Girls 16 and Under Level 4 Empire Cup in Glen Cove, NY.
Jake Greenwald won 2 of 3 matches in his round robin of the Boys 14 and Under, Level 7 in Torrington, CT.