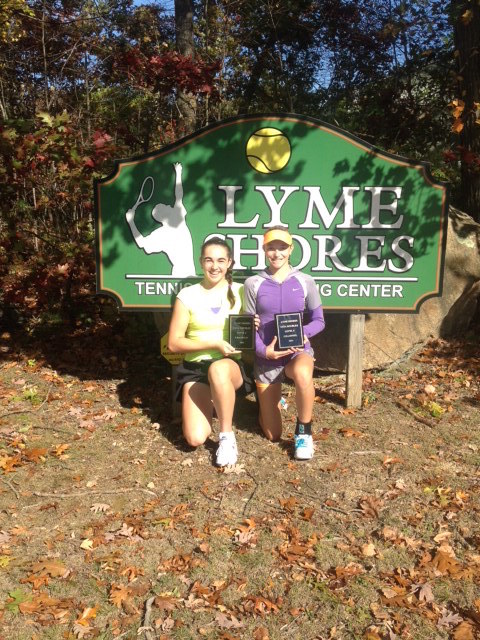 Natalie Ivanov (left) and Taylor Dean (right)
holding their doubles championship plaques!
Ellyse Hamlin was down in Boca Raton, FL at the USTA Masters National Level 1 Tournament where she reached the Semifinals, knocking off the #3 seed in the Quarterfinals.
Samantha Svendsen and her partner Julia DeLuca were Doubles Champions of the Girls 12 and Under, Level 4 in Rocky Hill, CT.
Danna Funaro and her partner Caitlin Bernard finished in 3rd Place, after reaching the Semifinals of the Girls 18 and Under Level 4 in Longmeadow, MA.
In East Lyme, CT at the Level 6 Doubles Tournament, we had the team of Natalie Ivanov and Taylor Dean, who were Champions of the Girls 16 and Under.
Max Zimmerman and his partner Josh Moskovitz were Champions of the Boys 18 and Under.
Alyssa DiMaio and her partner Lauren Fanning reached the Finals and finished 2nd Place of the Girls 16 and Under.
Luiza Cocito and Ally D'Aquino paired up to reach the Finals and finished in 2nd Place of the Girls 12 and Under.